Stelco Inc.
Marketing Director/BIM Coordinator
Graphic Design, Web Design, Corporate Identity and Branding
Re-branded Stelco Inc., from logo to all collateral and advertising. Being almost a fifty year old company, many aspects needed to be brought into the twenty-first century. Beginning with the company logo, Stelco was re-branded and re-established in the electrical community. Advertisements were placed both digitally and physically increasing awareness by 63%.
Stelco's logo is designed with Square 721 font family, utilizing Pantone colors consisting of PMS715, PMS7687 and PMS Black. Symbolism of electrical paths are added for a visual affect of movement within the logo.
Corporate Identity is the basis of your companies existence. Your brand and identity are what is going to stick in peoples minds and remember you company. For Stelco, their Corporate Identity consists of business cards, letterhead, envelopes, all contracts and legal documents, brochure, advertising, badges, vehicles and uniforms. Everything boils down to the existence of your identity.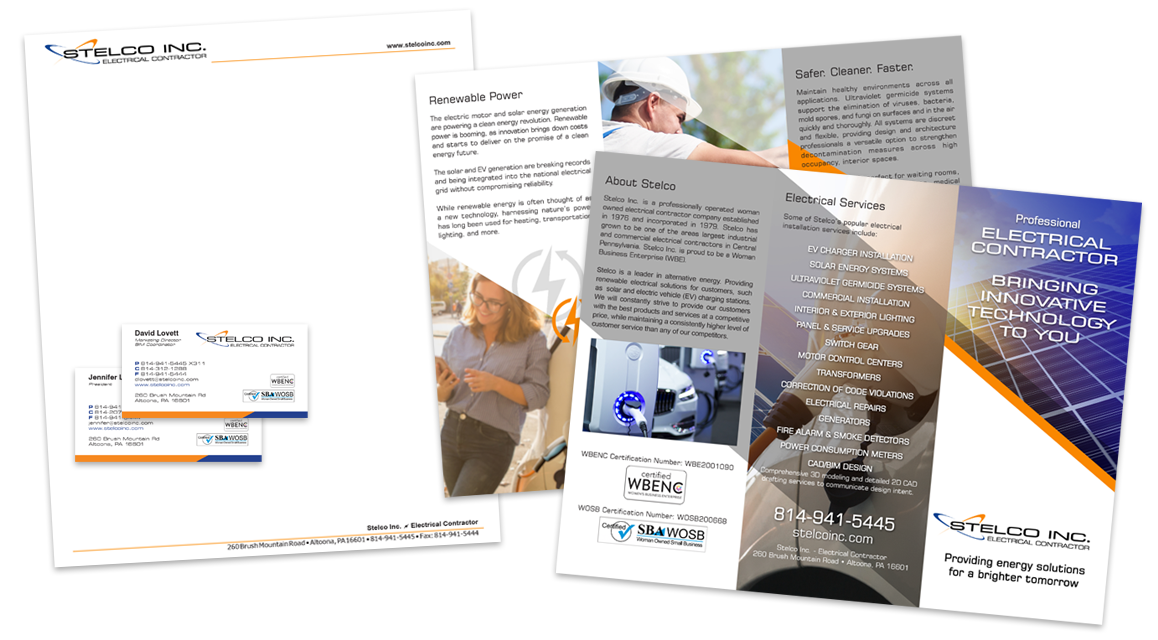 First awareness of any business to any potential client is their website. A strong website is the first marketing tool any company should invest in. This is your first and possibly your only interaction with a client. A website should strike interest immediately and draw the viewer in. Stelco's new 2023 website and marketing plan follows this scenario. With the development of Stelco's new website, Stelco has received over 9600+ new visitors in the past year, between the regular site and the mobile site. Stelco resides at stelcoinc.com.
For local awareness, OOH Advertising was utilized to establish awareness and stability within the community. Billboards and Ads were placed locally. Estimating an ROI of 15-20%. Stelco's billboards span the highway and local roads.
Online and Digital Marketing was utilized as well, to reach a larger market outside the local area. Product sales and services being offered increased dramatically by 45%.